Unsafe cladding and design defects: 'replace now, claim later'
08/09/23
In a ground-breaking development, the Court of Appeal has delivered a game-changing policy directive with far-reaching implications for the construction industry. This insight explores the impact of this decision on the industry's approach to design flaws, offering a look into the responsibilities of developers, contractors, and design consultants in the wake of the Grenfell Tower tragedy.
Background
The Court of Appeal has delivered a powerful policy directive to the construction industry. It endorsed the commendable approach of a developer who, in the aftermath of the Grenfell Tower disaster, proactively undertook inspections and rectified design defects before successfully claiming compensation from its consultant designer.
The judgment, handed down by Coulson LJ, is encapsulated in URS Corporation Ltd v BDW Trading Ltd [2022] EWCA Civ 772.
In this case:
The developer, BDW Trading Ltd (BDW), engaged URS Corporation Ltd (URS) as the design consultant for a significant development project.
The project comprised high-rise residential property developments in London (Capital East) and Leicester (Freemans Meadow). Completed between 2005 and 2012, these properties were sold to homeowners from 2008 to 2015.
Following the Grenfell fire in 2017, BDW conducted examinations of the developments, uncovering profound structural design defects. This process incurred substantial expenses, encompassing inspections, homeowner relocations, and extensive remedial works.
Seeking compensation, BDW initiated proceedings against URS in 2020. This complex legal journey saw multiple appeals from URS, all of which were dismissed by the Court of Appeal, finding in favour of BDW.
Court of Appeal's decision and guidance
Developers are, too, owed a duty under the DPA 1972 – Coulson LJ considered that URS owed a statutory duty of fitness for habitation under the Defective Premises Act 1972 (the DPA 1972). Crucially, this duty extends not only to homeowners, but also covers professional developers engaged in major projects.
Negligence claims and claims for contribution are also available – Beyond the DPA 1972, BDW's avenues for claiming against URS included negligence claims for economic loss and contribution claims under the Civil Liability (Contribution) Act 1978 (the CL(C)A 1978).
The new limitations of the BSA 2022 are applicable to ongoing proceedings – Despite BDA commencing proceedings against URS before the enactment of the Building Safety Act 2022 (the "BSA 2022"), which extends limitation periods, the new limitations for claims under the DPA 1972 were deemed to apply.
Available claims for design defects
This judgment outlines various avenues available to developers, employers, contractors, and subcontractors seeking remedies for design defects against their design consultant:
Claims in contract
Providing that they are not time-barred and available through the building contract or a collateral warranty, contractual claims should be the route favoured. Such claims are the most straightforward if the designs were contemplated as contractual obligations accepted by the design consultant.
Claims in negligence
Whilst negligence claims should be a 'fall-back plan' supporting a claim in contract, developers may find themselves compelled (e.g., no contractual document) to claim in tort:
Pure economic loss– Developers can claim for pure economic loss in negligence, even if they no longer own the developments. Coulson LJ clarified that the defective defect occurs on completion where the "the structural design had been irrevocably incorporated into the buildings as built".
Physical damage– For design defects leading to physical damage in properties they no longer own, developers cannot claim in negligence. Only homeowners possess this right post-completion. This stresses the need for swift action by employers to avoid losing the ability to recover costs through negligence in cases of subsequent physical damage.
Claims under the DPA 1972
The judgment confirms that developers are owed a duty under the DPA 1972, with a plea to make the most of the DPA 1972 which "has been significantly under-used in its lifetime so far". The duty owed is of fitness for habitation, whether the works are for the construction of a dwelling – or, since the BSA 2022, for the refurbishment of a residential building. Coulson LJ clarified those points:
Coexisting duty – Developers owe a duty to homeowners under the DPA 1972 whilst also being owed a duty by their design consultants. The application of the DPA 1972 is not "binary" and both obligations can coexist.
Nature and size of development– The DPA 1972's applicability remains unaffected by the nature – individual or commercial – or size – single dwellings or entire developments – of the developer.
Claims under the CL(C)A 1978
Developers may also directly claim contribution against their design consultants under the CL(C)A 1978. The court ruled that developers need not wait for homeowner claims to make a contribution claim, as delaying would "reward indolence".
Navigating time-limits for design defects
Before delving into the intricacies of limitation periods, a prudent strategy for developers and parties involved is to consider "stopping the clock" through standstill agreements. This approach grants parties additional time to resolve disputes before resorting to legal action. Our expertise includes advising and drafting such agreements for clients, facilitating amicable resolutions.
The judgment, nonetheless, provides useful guidance on limitations, succinctly summarised in the table below: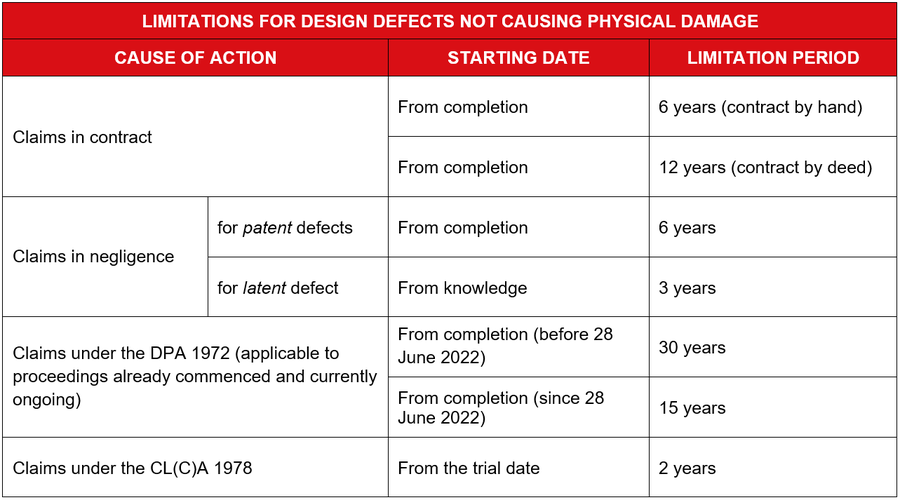 PDF version of the table is available here.
Impact of this case: "replace now, claim later?"
The judgment indicates a pivotal shift in construction law, advocating for a proactive "replace now, claim later" approach. Developers are now encouraged to rectify design defects before holding their design consultants liable. This approach is particularly relevant in scenarios involving cladding systems, where design flaws may render defects actionable.
The Court of Appeal's decision resonates beyond the courtroom. It emphasises the industry's responsibility to rectify past oversights and challenges complacency. This judgment, coupled with precedent like Martlet Homes v Mulalley & Co Ltd [2022] 1813 (TCC), provides valuable insights into building safety and accountability.
How can Capsticks help
We are construction and building safety experts, assisting all types of clients in their development projects, whether employers, contractors, or subcontractors. We can advise on:
devising tactics
exploring options against design defects
ascertaining the claims available
applicable limitation periods
"stopping the clock" through a standstill agreement.
We commonly assist our clients in dispute resolution processes, ranging from adjudication through to High Court proceedings.
Please contact David Firth or Mathieu Quenin for more information and to find out more about how Capsticks can help.